Il Tempo del Postino
a group show
2007 // Manchester Opera House
Musical Director and Conductor Ari Benjamin Meyers // featuring Doug Aitken, Matthew Barney and Jonathan Bepler, Tacita Dean, Trisha Donnelly, Olafur Eliasson, Liam Gillick, Dominique Gonzalez-Foerster, Douglas Gordon, Carsten Höller, Pierre Huyghe, Koo Jeong-A, Anri Sala, Tino Sehgal, and Rirkrit Tiravanija // Curated by Hans Ulrich Obrist and Philippe Parreno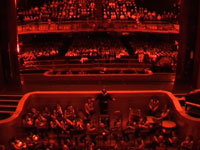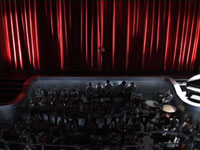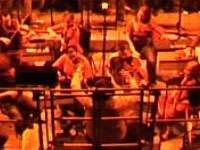 By Doug Aitken, Matthew Barney and Jonathan Bepler, Tacita Dean, Trisha Donnelly, Olafur Eliasson, Liam Gillick, Dominique Gonzalez-Foerster, Douglas Gordon, Carsten Höller, Pierre Huyghe, Koo Jeong-A, Anri Sala, Tino Sehgal and Rirkrit Tiravanija
With Darius Khondji and Peter Saville
Co-curated by Hans Ulrich Obrist and Philippe Parreno
Directed by Philippe Parreno
Assisted by Ann-Christin Rommen
Musical Director and Conductor Ari Benjamin Meyers
Lighting Director Chahine Yavroyan
Costume Designer Ramdane Touhami
Featuring musicians from the Royal Northern College of Music and the RNCM Symphony Orchestra


What if an exhibition was not about occupying space but about occupying time?
Can contemporary art be interpreted outside of a traditional gallery environment?

A group of the world's leading visual artists are about to defy all accepted notions of the 'exhibition' in an experimental time-based show, held not in an art gallery but at Manchester's Opera House.
With up to 15 minutes of 'exhibition time', each artist has created their own distinctive work, using guest performances and specially commissioned music - but not using film or video - to create this new form of group show.
By focusing on time-based work, this group show will aim to redefine how visual arts can be created and experienced. Set in a theatre, it transforms the established gallery model into a unique, shared audience extravaganza.
This world premiere, which is limited to only three UK performances, is the culmination of three years of planning by co-curators Obrist, Parreno and Manchester International Festival and is a co-commission with leading European opera house Théâtre du Châtelet, Paris.